Published on
Data centers: embracing densification and network evolution 
---
In today's digital age, the demand for data is insatiable, driving continual advancements in data center networks. As our reliance on cloud services grows, so too does the need for increased bandwidth and densification within facilities. To meet the high-bandwidth, high-density, and low-latency demands of our digital age, managing these data centers becomes increasingly important—and increasingly complex.
Insight from industry experts
Nicholas Cole, Product Line Manager at EXFO and Stephen Worn, CTO at DataCenter Dynamics delved into these complexities during a recent webinar, shedding light on the challenges and opportunities in next-generation data center networks. They highlighted several key themes, including the importance of connector cleanliness, the necessity of advanced testing methodologies, and the industry's shift towards 400G technology.
The crucial role of clean connectors and automated testing
Dirty connectors—whether single, duplex or MPO—can lead to back reflection, increased insertion loss, and ultimately, network failure. Therefore, network operators must enforce strict cleanliness standards and utilize proper cleaning techniques to maintain optimal network performance. Additionally, since there are thousands of fiber runs in any given data center, testing within this environment requires specialized, fully-automated equipment (see Figure 1) that gets the job done reliably, yet faster than ever.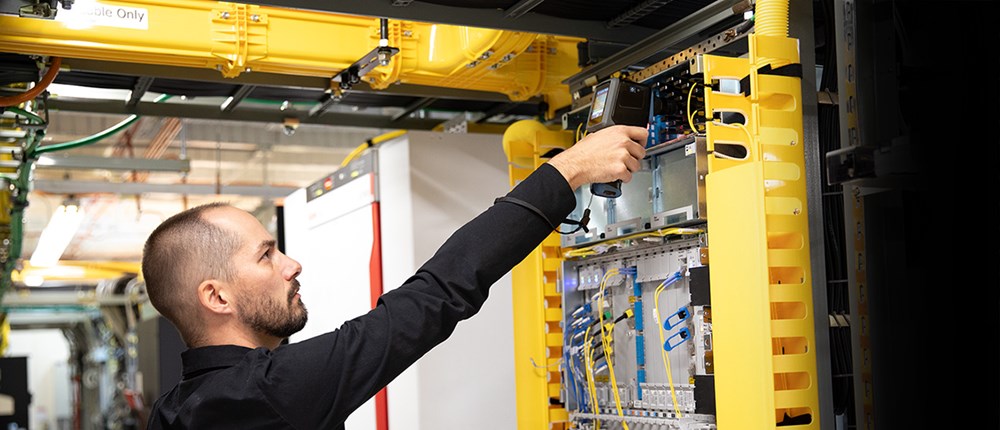 Figure 1. Fiber optic connector inspection within the data center using EXFO's FIP-500 fiber inspection scope.
400G is the talk of the town—and in the data center
The shift towards 400G technology in the data center is particularly noteworthy. However, transitioning to 400G is not just about achieving higher data rates. It comes with its own set of complex challenges such as changes to network architecture, fiber cabling and optical transceivers that require greater management around power and cooling. This transition is one of the many significant strides the industry is taking to meet the growing demand for data.
Staying ahead in a rapidly evolving data center
The world of data centers is evolving at a breakneck speed. To stay ahead of the curve, the industry must not only respond to current demands but also anticipate future needs and opportunities. Navigating this ever-evolving landscape requires continual evolution, advancement, and innovation. As we embrace densification and explore new technologies— like short-reach optics for multimode fibers and 400G—the future of high-bandwidth, high-density and low-latency data centers is not just on the horizon—it's already here.
For more information on EXFO's portfolio of data center test solutions, watch this webinar titled 'Top 5 Challenges EXFO solves in the data center' presented by Data Center Dynamics.