Published on
Fiber expert HF helps both large and small companies
---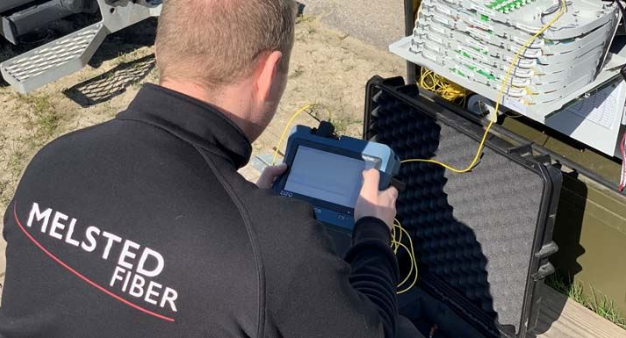 Melsted Fiber
Fiber expert HF helps both large and small companies
by Jacob Arent
(Translated to English from original article)
Link to article: https://www.hf.dk/visningsside/melsted-fiber?Action=1&M=NewsV2&PID=10984
HF is a supplier to many of Denmark's leading energy companies, with a myriad of customers in the energy and electrical industries. HF Telecom recently added Melsted Fiber to its customer roster.
Melsted Fiber is a small company that performs fiber work for a number of Danish companies on a daily basis. The company's customer base is growing steadily, as is its team. It is owned by Patrick Melsted, who has 10 years' experience in the fiber industry. Patrick has extensive knowledge and expertise and skillfully guides and assists his customers.
"Launching a new company requires considerable investment in everything from office facilities to business cards, cars and tools," said Mr. Melsted. "I contacted HF, a company I knew from before, to enquire about test equipment from EXFO and other gear for setting up and testing fiber installations."
According to Mr. Melsted, the discussion about his company's needs was good from the start, and the solution he initially purchased was an EXFO MAX-OTDR with accessories that really helped him handle all kinds of troubleshooting.
"Jacob Arent (Field Application Engineer at Hans Føsgaard A/S) and Jens Bundgaard (Technical Manager at Hans Føsgaard A/S) helped me chose the right EXFO solution. I was already familiar with EXFO products, and I doubt I would ever use any other instruments for fiber testing. EXFO's solutions perform very well and are user-friendly at the same time," said Mr. Melsted.
"Mr. Melsted is a young man with a lot of drive, who won't compromise on equipment, which is very refreshing, and we are always happy to help him," said Jacob. "Even if you are a relatively small company, you need access to the best equipment, for the right applications and at the right price. We helped Mr. Melsted choose a new EXFO damping kit, which is the right solution for him for some exciting new projects."
These are the MAX-945 OLTS Certification Tests, which quickly test according to standards.