Published on
5G revenue shift from humans to machines emphasizes need for adaptive service assurance
---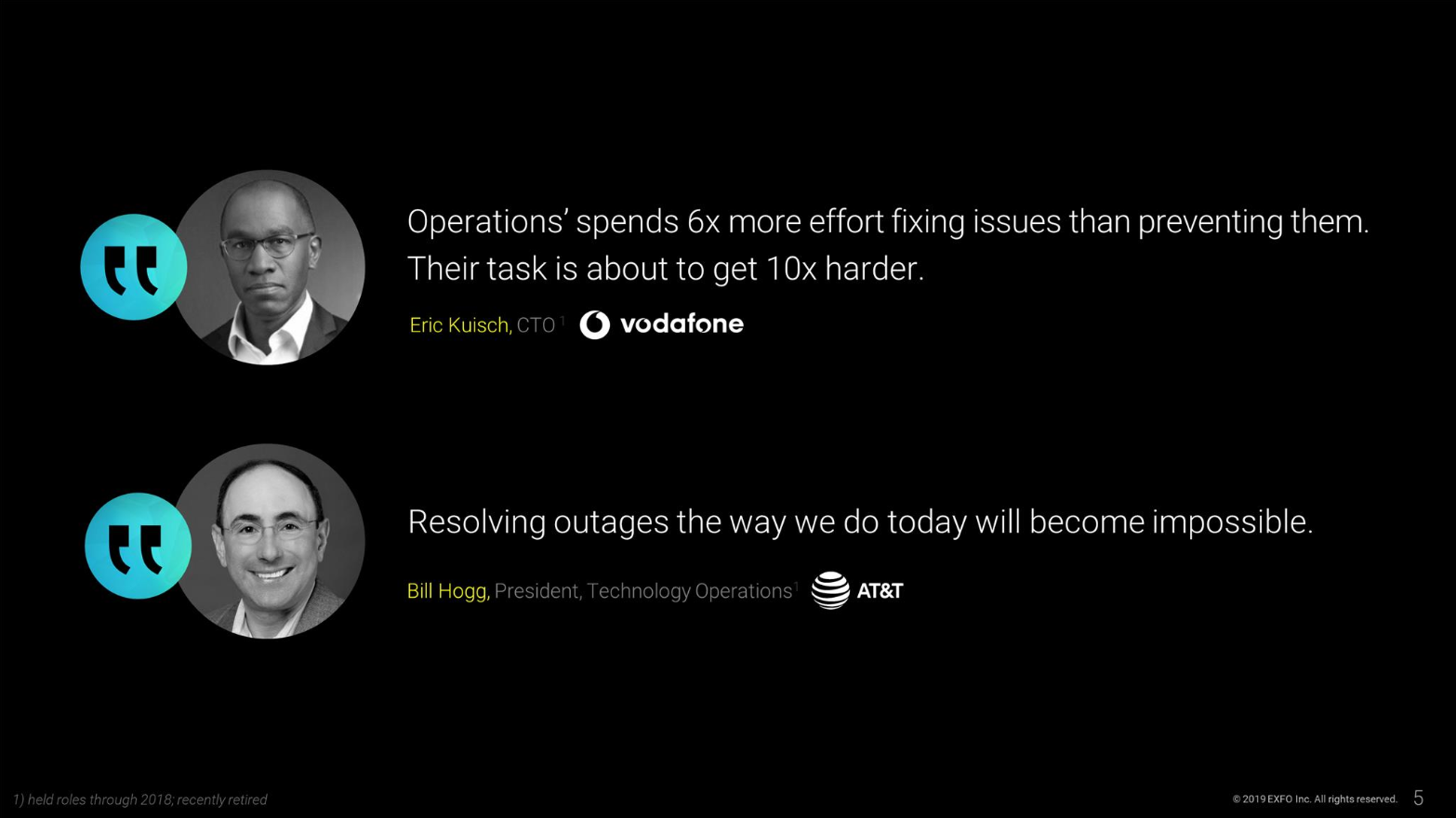 5G is changing the main source of revenue for communications service providers (CSPs). With 4G, most revenue came from cellphone subscriptions. But connected devices—many tied to Industry 4.0 applications like remote patient monitoring and synchronized production-line robots—are expected to drive 95% of new revenues in the 5G era (Ericsson, 2017). This will ramp up quickly; GSMA predicts there will be five times more connected devices than humans by 2025 (2019 stat).
The change from human to machine 'customers' has several important implications for network operators.
First, there is the issue of how performance issues affect the customer and therefore revenue. Unlike humans, who often silently tolerate service quality issues, these connected devices will stop working or instantly churn if problems go unsolved. Especially in mission-critical scenarios, operators must be able to deliver ultra-reliable low-latency communications (URLLC), always-on networks and tailored performance service level agreements (SLAs).
Second, there is the growth of network management complexity. The combination of more users, more connections, more data, more devices, more apps and more convoluted networks creates a perfect storm for operators. CTOs at AT&T and Vodafone estimate virtualized, 5G networks will be ten times more difficult to manage.
Third, there is the question of visibility into network performance and its impact on customers, whether they be human or machine. Already, operators are 98.7% blind to subscriber-impacting events, despite their best efforts (Heavy Reading, 2019). Existing monitoring systems mask the individual customer experience in performance averages and aggregate metrics. It is a low resolution, approximate view of the health of their networks that means troubleshooting relies on intuition instead of insight.
Finally, there is the fact that operations teams are stretched to the limit, spending (on average) 67% of their time fixing network and service issues (Heavy Reading, 2019). Resolution effort and complexity of outages are increasing. It typically takes 12 people from three different teams over three hours to identify the root cause of each outage (Heavy Reading, 2019).
CSPs know they need a new approach to assurance to address these challenges and keep up with expected 700% network traffic volume increase within five years (TMF, 2018). In the U.S., Tier-1 operators say they plan to use sampled passive monitoring (the foundation of traditional service assurance) to analyze, at most, 20% of user plane data—citing scalability limitations in compute and cost as prohibitive (EXFO conversations with operator customers, 2019).
What will they use to analyze the remaining 80%+ of use plane data, and keep a handle on other aspects of 5G service assurance?
To maintain control, 91% of operators say they need to implement service assurance automation (TMF 2018). Such automation must be suited to address the fact that, as networks continue to virtualize, outages have escalated by 46% in the last three years alone (Heavy Reading, 2019), 65% of which originate in virtualized domains (Heavy Reading, 2019).
In only a few years and with the technology to do so being developed as they go, CSPs are undergoing what is akin to the 'digital transformation' so often discussed in relation to enterprise IT. The speed with which virtualization and 5G rollouts are progressing do not give CSPs the luxury of undertaking such a massive change at a traditional pace. Instead, they must rapidly move from scalable, simple process automation and real-time multi-system integration, to intelligent AI-based root cause/decisional automation.
The goal is to quickly get to what can accurately be described as adaptive service assurance: automation for autonomous networks. This employs AI to make smart decisions from vast amounts of real-time data, then immediately take effective action. As the modular technology to do this emerges, CSPs will gain the ability to incrementally add visibility, integration and automation to progressively unlock value—and do so at a previously unheard-of pace.